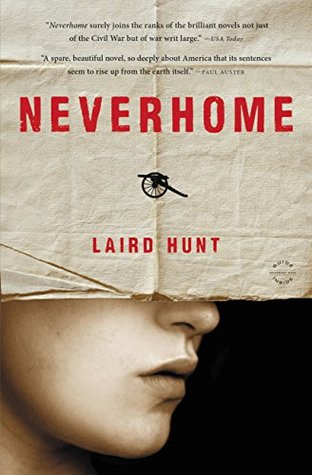 Neverhome by Laird Hunt
Published by Back Bay Books
Publication date: May 19th 2015
Genres: Fiction, Historical



Your Local Book Store, Amazon
There comes a point in a reading life where, short of science fiction, it gets harder to be surprised by a novel's premise but I have never before read a Civil War novel where the protagonist is a female… soldier. I've seen articles and photos of real-life women who fought disguised as men but had not come across it translated into fiction. How marvelous then that an author has done so and with such strength as Laird Hunt in his novel Neverhome.
Neverhome is one of those novels that once started there is no going back; where it is difficult to disengage and return to the present day. Hunt so thoroughly and completely captures a time and place you inhabit it with the characters. His protagonist is Constance Thompson, a woman who goes off to fight in the Union Army disguised as a man, leaving her husband behind to tend their farm in Indiana. For two years she lives as man, going by the first name Ash. She is a highly valued member of her regiment for her shooting skills and stamina but after she is wounded near Richmond and separated from her unit she is taken in by a Confederate woman who, in healing her wounds, discovers her secret and later turns her in as a spy. After she is locked up in an insane asylum her only goal is to escape and get home.
I told him I knew a thing or two about men brought to the brink and hard pushed, that I had stood alongside them many a time, that I could not hold the ugliness of war against them any more than I could against myself or those I considered my friends.
There is not a single misstep in Neverhome. Hunt sets every word in place perfectly with no gaps or cracks, each sentence dovetailing perfectly into the next and all with the cadence and parlance of the times. Told from Constance's point of view, it reads like a journal; a diary written by a woman seeing the war as a man, in its brutal and brutish nature, the filth and terror dispelling any of the romanticism that might still cling to the legends of the War Between the States. And in this way, she reveals herself to be more Ash than Constance, more alive as she battles on the field and off, propelled by a part of herself she knew existed but had never tested. The primal nature of Ash guides her until the novel's final pages when for the first time the she who was and the he who is collide and take away the things she loves most.
Related Posts