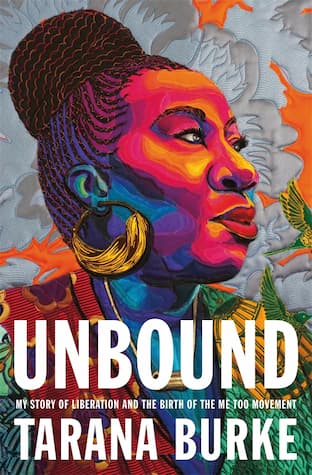 It's likely you don't know who Tarana Burke is, but almost impossible you've never seen the words that became the hashtag that defined one of the biggest social justice movements in American history. #MeToo appeared in 2019, attached to serial sexual predators like Harvey Weinstein. I heard it, read it, used it, but had no idea where it came from. Now, thanks to her memoir, Unbound, I know the story of the indomitable woman who realized she had to overcame her own past before she could truly help others with theirs.
I am hardwired to respond to injustice. It doesn't always sit well with me, but I've learned the hard way not to ignore it. It's the same wiring that led to the creation of the 'me too' movement.
Burke is a Black activist who has spent her life working with girls of color, helping them overcome trauma while teaching them self-esteem. She did all this for decades while keeping a key element of her own life buried deep inside. When she was seven she was raped by a young man in her neighborhood. She didn't tell her parents, knowing her stepfather would likely beat or kill the man and end up in prison. There was no going to the police for justice. When she was nine it happened again with a different boy. At that point, Burke was left with no emotional recourse but to believe it was her fault. She was nasty, dirty. Her only way to cope was to split herself. The outer girl others saw—good student, athlete—and the inner bad girl who let men do things to her.
Despite the bifurcation Burke imposes on herself she outwardly leans into a strong façade. In high school she joins a youth leadership group, seeing, for the first time, Blacks who are proud of their heritage and confident about their future. She graduates from Auburn University before landing in Selma working with a non-profit organization to empower girls of color. It's only as she's providing a safe space for these girls that their stories start to resonate with her own. But it's a trigger and causes her to shy away. When she deflects the needs of a girl she feels especially close to she realizes she has to reckon with her own life.
From here Me Too is born. Much in the same way Burke opens herself to her work, Unbound opens her work to all the readers who only learned about the movement when rich white men were exposed. I had the luxury of growing up without fear of physical or sexual harm so Burke's story is revelatory and deeply saddening.  This is profoundly personal writing and a window into one extraordinary woman who, rather than caving into her pain, her darkest moments, uses them to light the way for others.
 This post contains affiliate links which means if you click on a link and make a purchase of any kind, I get a small commission (at no cost to you).
*I received a free copy of this book from Flatiron Books in exchange for an honest review.*
Related Posts