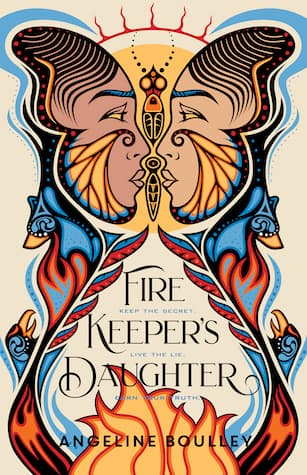 As a biracial member of the Ojibwe tribe Daunis Fontaine lives in the uncomfortable in-between space of not belonging to any one community. What bought her acceptance from everyone were her  incredible skills as a hockey player. After graduating high school she was looking forward to a bright future as a player at the University of Michigan until family events caused her to change her plans. Now, while waiting to start school locally she witnesses the murder of her best friend Lily. This is the tumultuous landscape of Angeline Boulley's debut novel, Firekeeper's Daughter.
Lily is killed by her boyfriend, a once promising hockey player whose life has crashed as his meth addiction accelerated. Her death uncovers the growing problem of meth on the reservation. Daunis is pulled into the situation when she discovers a player on another team is actually an undercover FBI agent. She is convinced to help the FBI discover who on the reservation is manufacturing a new and more lethal form of meth and who is distributing it. In making this choice, Daunis must set aside generations of distrust of the federal government and to keep her actions secret from everyone she knows and loves.
What follows is a fast-paced mystery that builds to an explosive conclusion. Quick point: Fireskeeper's Daughter is a young adult novel and reads that way. Not in a derogatory sense, but its style skews towards a younger audience with more emotion, more adrenaline, less nuance. This is fine except that it contributed to the novel being overly long and relegated the most fascinating part of the story to the background. Daunis is part Ojibwe, her father a firekeeper, a sacred tradition in the tribe. Boulley does include a great deal of detail about the intricacies of Native American life, tradition, and culture, but I wanted more. I understand the importance of illustrating the devastating effect of drugs on the Native American population, but I wanted Firekeeper's Daughter stripped of that device and the focus left solely on a young woman navigating life between two worlds while trying to honor both. Ultimately, I ended up skimming a fair amount of the book, but I am hopeful that Boulley turns her mind to adult fiction next because I want to learn more about her world.
Indigenous peoples' fiction is an underrepresented genre, but if you want an outstanding novel about contemporary Native American life please read There There by Tommy Orange.
This post contains affiliate links which means if you click on a link and make a purchase of any kind, I get a small commission (at no cost to you).
Related Posts