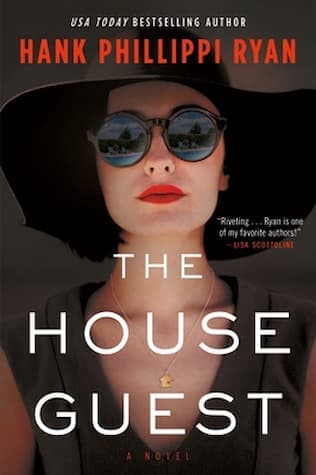 Reading as much as I do is a joy, but it can make me feel jaded. It leaves me with a 'been there, read that' mindset, especially when it comes to thrillers. That's one of the reasons I was so tickled by Hank Philippi Ryan's The House Guest. She uses the reader's cynicism and suspicion against them, jamming the novel with dubious characters at every turn and a maze of a plot. It makes for fun reading as I had to stop guessing at every hint only to run headfirst into dead ends.
Alyssa has been living a life of luxury with her wealthy, charismatic husband for eight years. Until, without warning, he wants a divorce. As the heir to family wealth he comes after Alyssa hard not just in the lawyers' offices, but with insidious mind games. She still resides in their home, but her fears have settled into an exhausting hyper-vigilance that leaves her questioning everything and everyone. Until she meets Bree, a woman trying to escape an abusive relationship and a stalker. The two women strike up a friendship and Alyssa invites Bree to move into the guest house on her spacious Greenwich property.
Bree's problems take Alyssa's mind off her own issues and ease her loneliness. Her husband's scorched earth approach to their divorce means he's spread lies to alienate her from all of their friends, leaving her isolated.  She's can help Bree in a way she can't help herself. As they both try and navigate their way out of messy relationships, they become friends. When Bree is gifted with extraordinary good fortune she immediately wants to repay Alyssa's kindness towards her. But is any of this what it seems?
Without divulging any specifics, the answer is no. The House Guest is a house of mirrors mystery in that Ryan deflects, diverts, and distorts the truth, sometimes in ways that feel frustrating, but that keep the reader pushing forward. This could easily have gone off-the-rails wrong, but characters and circumstances maintain a sliver of plausibility, thanks to Ryan's steady hand. I don't often welcome feeling confused and off-balance but with The House Guest it was worth it to sit back and let this labyrinthine, suspenseful story unfold.
This post contains affiliate links which means if you click on a link and make a purchase of any kind, I get a small commission (at no cost to you).
*I received a free copy of this book from Forge Books in exchange for an honest review.*
Related Posts