How to Survive a Summer
by
Nick White
Published by
Blue Rider Press
Publication date:
June 6th 2017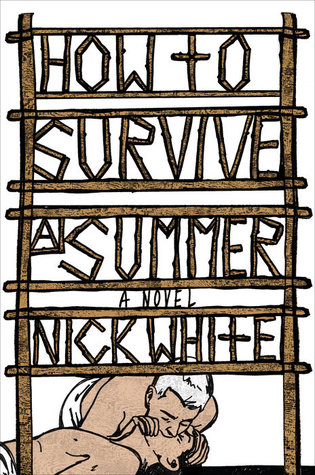 Will Dillard's film studies dissertation is making his life miserable because he can't seem to finish it. In fact, finishing anything after the summer he spent at Camp Levi when he was fifteen, has been difficult. Now, a movie, based on a memoir about the camp has come out and whatever semblance of motivation and forward motion there was in Will comes to a complete stop. This is where How to Survive a Summer by Nick White begins. From there we travel back to a camp in rural Mississippi where Will spent a month being "converted" out of his homosexuality. Needless to say, this is wrong on so many levels.
Will's childhood is a relatively happy one, even as he grapples with feelings that don't fit into the world he sees around him. Until, three years after his mother's death, when his mother's younger sister, Mother Maude, shows up with the idea to start a camp to 'save' boys in the grip of the devil. Then both Will and his father embrace the chance to save his immortal soul; because Will himself is not sure about his feelings. Could they be a choice? Might they lead him to hell? Could he change and make everyone around him happier?
Maybe this could be considered a kind of fasting and would help in humbling me before the Lord when I asked Him to do what was no less than a miracle: to cure me of the sick love in me that had perverted my heart into something so misshapen…
Will heads off to this 'camp' but even setting aside its mission this is no camp of any kind at all. It's rundown land next to a toxic lake. There are only five boys and they live in a ramshackle hut called the Sleeping Cabin with a Chapel Cabin for prayers and a concrete Sweat Shack to break them down before they can be built back up again as wholesome young men. White doesn't need to work his prose hard to make it clear the horror of this place. The lake is actually sewage runoff and after only one forced immersion all of the boys break out in open sores and itching welts. There is little food and the agenda consists of nothing more than lessons on "appropriate" behavior for young men. Will still believes he needs to be saved so when the other boys rebel he makes a choice that will bring the camp to a close and change all of their lives.
The very premise of How to Survive a Summer would seem to automatically soak the novel in drama, but, it doesn't feel that way. White adds in a family history that is unusual at best, the contemporary movie that stirs up his past, the re-appearance of some of the other campers and still the novel feels tepid. This may be a conscious choice on his part to mirror Will's own confusion and ennui, but while it works, it takes a story with a strong engine and leaves it idling in neutral.
The danger of becoming the person you are is you run the risk of hurting the people who love the person you were.
Related Posts