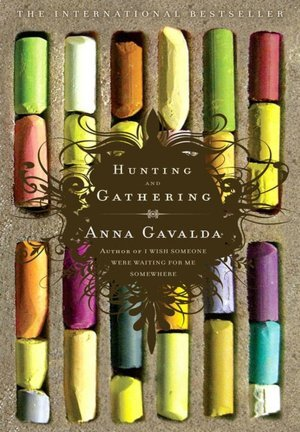 For every one of us there is a point when we know we are in love with a book and for each of us it is different. For me, it was page 17 in Hunting and Gathering when the anorexic Camille crumpled up a note from a well-meaning young doctor asking her to call him so he could take her to dinner. One sentence, no special words and yet, to me, it so perfectly encapsulated this broken, flawed young woman that I wanted to know more about her. Where was she going and from where had she come that left her so damaged she couldn't eat or take care of herself? Despite having gone to school at the Sorbonne and shown great promise as an artist she was living in the attic of the old servants' quarters of a mansion now divided into apartments and working as a cleaning woman.
In addition to the fragile Camille, there is the odd and isolated Philibert whose family owns the mansion but due to a dispute with other family members is likely to be evicted, and his roommate the ever-angry Franck who works as a cook in a restaurant. Philibert discovers Camille, malnourished and ill and despite his crippling social anxiety and stutter brings her to his home to help her get better. This is the cast of Hunting and Gathering by Anna Gavalda, a novel that came to feel like an enchanting gift I gave myself simply by opening the cover. Through Gavalda's empathetic prose this is an ensemble cast with each character possessing enough flaws and charm to make them eminently readable for almost 500 pages.
Philibert, a man in his 30s is so uncomfortable in his own skin he spends his days closeted in his ancestral home reading dusty old books about the ancient battles of France. When he brings Camille into his home she is too sick to know where she is but as she gets better she describes him as
A tall, strange guy with pants that were way too short, glasses held together by Band-Aids, and the behavior of a Martian.  
Only as time passes does she realize what a tender heart and noble soul is hidden beneath his fusty layers. Franck on the other hand, is another story. He uses the house as a crash pad for the odd hours he gets away from work. Initially, he is the stereotypical angry young man but, once again, as Gavalda works her magic, we see that much of his anger is due to his fears for his grandmother, Paulette. She has maintained her independence into her early 80s but has now fallen and broken her hip and is no longer able to live in her home. It is Camille who decides that she should come live with them and she will take care of her. Paulette becomes another piece in the story, balancing the past and the present, all while trying to hold onto her independence and the life she knew.
You—you see, the worst thing about getting older is…It's not so much that your body goes its own way, no, it's the regret. How everything you regret comes back to haunt you, torment you. 
And so Hunting and Gathering progresses with all the cares and concerns of trying to make a living, aging, relationships, when to let go, and when to open up. At every stage, for each character, Gavalda gently, but with a welcome sense of humor, takes us more deeply into their inner life. Each has something to teach and to learn and we are privy to the journey. Soon they feel like people we know.
It is not a perfect book; any more then there are perfect people in our lives. There are moments when Gavalda uses a joke-y form of internal dialogue for the characters that is jarring against what are soft and painful spots. What it is, is charming, poignant, and real. It is a book I did not want to put down and that I was sad to finish. These characters were so beautifully written that I wanted to follow each of their lives to the very last minute. And that, for me, is what makes a book great. Or, more importantly, truly special.
Do you have any books that may not be considered outstanding by the critics or others but mean something to you?
Related Posts