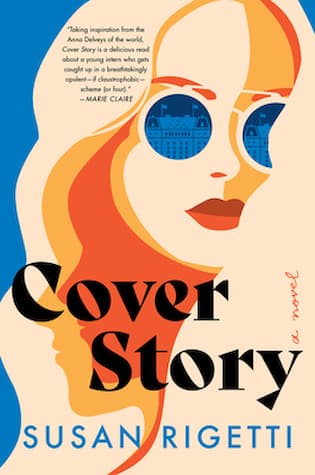 It's a happy Monday—I've  got an easy 5-star, fun, tear-through novel that I literally started and finished in one day because I couldn't stop reading. Cover Story, based on the Anna Sorokin scandal, is just that good. In it, a young writer, Lora, finds herself flunking out of NYU just before getting a summer internship at Elle magazine. Once there the entire trajectory of her life and the novel explode.
At Elle Lora meets Cat, a freelance writer everyone is always talking about. She's heiress to a fortune, has clothes to die for, and lives at The Plaza in a suite. She's mythic to the hungry interns so when she asks Lora to help research an article she's thrilled. Anything to take her mind off the fact that she's about to be evicted from her apartment and everything about her future is uncertain. The work goes better than planned and the two women become friends despite their disparate lives. Cat even reaches out and offers to help Lora in her predicament, including sending her writing to an agent.
I could go on with more juicy details, but am going to leave it at that because there is so much fun to be had as each layer unfolds. Cover Story is as intricately constructed as a Swiss watch, but moves with the force of a tidal wave. The chapters are written as texts, emails, and Lora's diary all of which give a different perspective that both answers and creates questions. All of it came together in a way that held my attention nonstop even after the final pages (which are the epitome of twists). I went back days later because I could not decide what had really happened in the novel. When I did, it lined up even more neatly than before and all of it had slipped right past me.
So, kudos to Susan Rigetti for making her debut and hitting the ball out of the park. This is the escape reading so many of us have been looking for. Sit back, relax, and dive into Cover Story.
Post-review commentary: Despite having loved this novel, I have some qualms about the ongoing attention being given to Anna Sorokin. I realize I'm contributing by reading books like this and watching Netflix dramas like Inventing Anna so I need to ease my conscience by pointing out that these are fictional. In reality, Sorokin was a grifter, a common criminal. There was nothing romantic or aspirational about her attempt to defraud financial institutions and the very real money lost by businesses and people who thought they knew her. *Jumping off my wobbly soapbox*
This post contains affiliate links which means if you click on a link and make a purchase of any kind, I get a small commission (at no cost to you).
Related Posts