Savage Continent: Europe in the Aftermath of World War II
by
Keith Lowe
Published by
St. Martin's Press
Publication date:
July 3rd 2012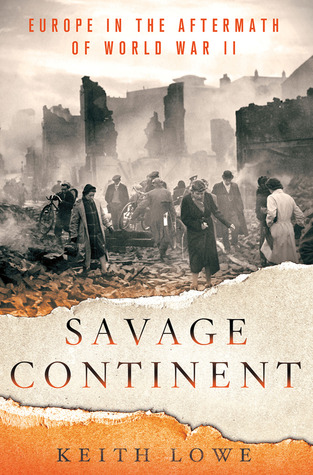 Within the first 15 pages of Savage Continent by Keith Lowe I learned that by the end of World War II:
The Germans had destroyed 93% of Warsaw's buildings
18-20 million Germans were rendered homeless due to the destruction of their cities
70,000 villages in the USSR were obliterated either by the Germans or by their own troops to avoid providing any supplies or refuge to the enemy
In total 35-40 million people perished (the equivalent of the entire population of pre-war France and Poland)
27 million of the dead were in the USSR alone
It's enough to numb the mind but it is just a jumping off point for the exhaustive research Lowe uses to quantify what happened to the continent of Europe as a whole in the aftermath of the war. What was left of its people, infrastructure, buildings, transportation, environment, and most importantly, its soul. Savage Continent is not a dry academic recitation of statistics, but neither does Lowe shirk from the sheer mass of the destruction. Instead, he uses it to delve into the greater questions: What happens when the persecuted are freed? How can any one country recover when all resources are overburdened and the most basic needs for survival are lost? When the overwhelming motivation for solidarity is gone and old beliefs/religions/politics reassert themselves?
Savage Continent is not easy or enjoyable reading at times. For most of us, the end of the war is viewed from a simplistically visual perspective—the sailor kissing the nurse, the parades, and the joyous relief on faces. For those alive at the time, there was all that, but that was followed the reality of the "landscape of terror" that existed in Germany and much of Europe. By the end of the war Germany was home to 6.8 million displaced persons: forced laborers, prisoners-of-war, internment and concentration camp prisoners. The focus of the book is not on the Holocaust, but neither does Lowe avoid it. It is simply kept in the context of the greater whole—the complete and utter destructiveness of a war that lasted six years and covered the landscape of Europe and much of Russia. It is not the most joyful reading for the holidays, but for a country that has never had a war fought on our soil, never had no homes to return to or entire generations of families lost, it offers a chilling and factual perspective on what intolerance and willful ignorance can bring. And for that, I'm thankful for the reminder.
Related Posts