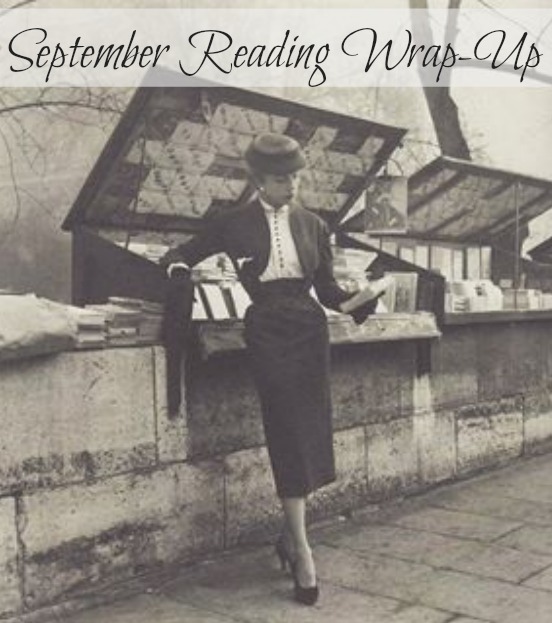 Goodbye to the first month of fall! Did anyone have fall weather? Or great fall reading? Despite this being the time of year for the biggest book releases, I did not have that much luck with my September reading. Am I the only person who feels abandoned by the book gods?
Read
The two notable exceptions to a so-so month are:
A Gentleman in Moscow by Amor Towles (I'm already calling this my favorite book of the year. Cannot recommend highly enough)
Commonwealth by Ann Patchett
Reviews to follow:
The Wonder by Emma Donoghue 
The Fortunes by Peter Ho Davies
Perfume River by Robert Olen Butler
Today Will be Different by Maria Semple
Small Great Things by Jodi Picoult
Stalled
The Lesser Bohemians by Eimear McBride: I thought her debut, A Girl is a Half-Formed Thing, had one of the most unique writing styles I'd ever read. She accomplishes the same feat in this novel, but for whatever reason, the plot did not propel the book forward enough. I kept setting it aside until I realized I need to let go and come back to it another time.
Daring Greatly by Brene Brown. One of several non-fiction self-helpish books I started this month that flamed out for me. I may not be daring enough.
The Subtle Art of Not Giving a F*ck by Mark Manson. Interesting premise, but overuse of the f word dulls its impact and got in the way of Manson's message. I'm hoping if I come back to it and get further in I can get a better sense of what he means and how it works.
DNF (Did-Not-Finish)
The Wangs vs the World:  A story about a wealthy Chinese family in America after they have lost all their money. The father, who has never been to China but grew up in Taiwan where his parents went after the Communist take-over, is determined to go back to China because he's heard new laws might allow him to get his ancestral lands back. The novel is a road trip with his second wife, his teenage daughter and his son who is in college and none are too happy about being yanked out of their plush lives. There was potential for humor, but it never gelled.
We Eat Our Own: My bad on this one. Somehow I thought it was going to be piercing social commentary, but instead it was a bad combination of Apocalypse Now and Pulp Fiction. An Italian film director supposedly pushing the cinematic boundaries by filming cannibals. In the Amazon. In the midst of a drug cartel operation. Need I continue?
Little Nothing: the book can't be blamed for this one. I got an e-version and the formatting was such a mess I stopped after the first page.
Library Books
Three Sisters, Three Queens (The Plantagenet and Tudor Novels, #8)
by
Philippa Gregory
Published by
Touchstone
Publication date:
August 9th 2016

Three Sisters, Three Queens by Philippa Gregory: I know, you're groaning and asking 'why does she keep reading this stuff?!' Here's why: One, Gregory is a marvelous writer and makes history enjoyable while still sticking to the facts and two, her books are all from the female perspective which although it was depressing as hell in the 1500s is still more than can be found in history books. I'm just waiting for her to move beyond that odious toad Henry VIII and really get into Mary and Elizabeth. If you haven't ever read any of them, start with the first in the series, The Lady of the Rivers. You'll be hooked, I promise.
The Secret History
by
Donna Tartt
Published by
Vintage
Publication date:
April 13th 2004

The Secret History by Donna Tartt– safe to say that I suffered badly from rereading regret with this novel. First go-round (when it originally came out) I loved it, but this time I could only think of snakes in a basket as the five protagonists writhed around each other with secrets and lies. OK, drunk snakes in a basket because there was so much alcohol involved I had a hangover (I know, it was college, but please!). The only thing that was as remembered was Tartt's deliberate, beautiful writing style. Every word carefully chosen and every sentence perfectly curated and yet, I could not have cared less about the characters. Nor did I feel I knew anything more about them at the end then I did in the beginning, which is really problematic for me. I don't have to like them, but some idea as to why they act the way they do is why I read.
How was your September reading?
Related Posts