Speak No Evil: A Novel
by
Uzodinma Iweala
Published by
Harper
Publication date:
March 6th 2018
Genres:
Book Clubs
,
Coming-of-age
,
Contemporary
,
Fiction
,
Literary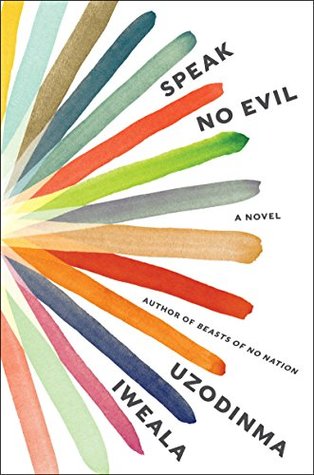 Life provides a graceful arc for the fortunate
When you're a teenager, relationships feel exceptionally complicated, something Niru and Meredith learn in in Speak No Evil, the new novel from Uzodinma Iweala. They are seniors at a private school in Washington D.C. where he is a track star and is set to attend Harvard in the fall. She is also a runner, but with a more rebellious side, which she can afford as her parents are high-powered D.C. insiders. They are great friends until Meredith tries to make them something more and Niru rebuffs her. This is the first of two acts on her part that will have a profound impact on him. Why? Because Niru is black and he's gay.
Iweala divides Speak No Evil cleanly into two parts: Niru and then Meredith, with both teens telling their story from their point of view. This might seem like a simple choice but it goes well beyond that. It is also the divide between each of their lives—public vs. private, black vs. white, and traditional vs. modern. Niru's parents are from Nigeria where homosexuality is a crime. He is just beginning to accept his feelings, but lives in terror of his deeply conservative father finding out. When he does, his response is extreme in its religiosity and upends Niru's life. Niru, a young man who does everything right, as he's supposed to, but wants love in a way his father believes is a sin to be punished.
On the other side of this divide is Meredith, who, ostensibly, has the teen dream life—all the money coupled with the freedom that comes from parents who are never around. Underneath, of course, there is more than that, as seen later in life when she returns to her family's home after moving to New York City. She doesn't get into Harvard, derailing the plans she and Niru had to go to school together—even if she had hoped they'd be more than friends. Despite the emotions his rejection elicits, she tells no one and understands his pain. Her character is complicated, in that throughout Speak No Evil I feel sympathy for her and can acknowledge the part age played in how she came off, but in the end, I felt as she thought Niru did
… he dismisses my problems because in his mind white people don't have real problems, just issues.
And yet, Iweala doesn't give her short shrift. He writes her in fullness, and much of it—the loneliness, the feelings for a boy who didn't want her the way she wanted him—is heartbreakingly expressed. He just makes her act in a way I had trouble believing. She was not as voiceless or powerless as the story intimates. She had agency. She could act. She chooses not to.
At just over 200 pages Speak No Evil is one of those novels that amaze me because they compact so much depth in a small space. Iweala's depiction of both Meredith and Niru and the tsunami of emotions they felt will resurrect achy memories in all but the most self-assured. Where I separated from the novel is in Meredith's actions at a pivotal moment in its events. Which isn't to say it lessened how I felt about his writing or the story. With the exception of the choice to forego quotation marks for dialogue (a contemporary trend I intensely dislike), making multi-person scenes difficult to follow, Speak No Evil is impactful and sorrowfully realistic.
Related Posts