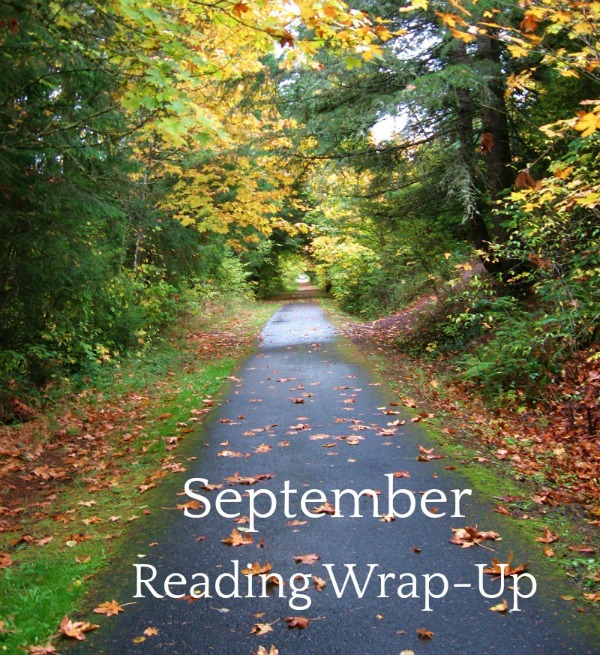 What a month! I read much less, but found some great, less publicized books that were exactly what I needed. Sadly, the end of the month has found me floundering as American politics have taken over. Despite knowing it would be difficult I felt I owed Dr. Ford the respect of listening to her testimony. It broke my heart and brought back a lot of very painful m

emories—as I'm sure it did for many women. I know this is a book blog, but at this point in American history it is impossible not to be politicized. What has happened will shape women's lives for generations and not for the better. I am deeply saddened and enraged.
Back to books.
The Distance Home
by
Paula Saunders
Published by
Random House
Publication date:
August 7, 2018
Have you ever had a book that two trusted reading friends have loved but that you didn't even like? That's what happened to me with The Distance Home. It's the story of a South Dakota family in the 1960s who live a rough and divided life. The parents split their affections between their two children and the impact is felt throughout their lives. Leon is the oldest and is a shy, sweet boy who stutters and loves to dance. His mother is fiercely protective of him, but his father views him with distaste, even as the boy does everything he can to earn his affection. Rene is headstrong, bright, and sparkly. Her father adores her, but she has no closeness with her mother. Interesting premise, but I did not like Saunders's writing at all. I had very little sense of Leon's emotions. I almost didn't finish the book. To get a different perspective here are links to the two bloggers who loved the book: The Novel Visits, Sarah's Book Shelves
Number One Chinese Restaurant
by
Lillian Li
Published by
Henry Holt and Co.
Publication date:
June 19, 2018
I love food novels, but they have to be well-written and this just wasn't. There was no flow to the plot, which veered between serious and light, and the characters came off as wooden stereotypes. Big disappointment.
The Betrayals: My review
Gone So Long by Andre Dubus II: Sad but beautiful novel about a fractured family. Review to follow
Ponti
by
Sharlene Teo
Published by
Simon & Schuster
Publication date:
September 4, 2018
A slog through the lives of three women connected by blood and friendship, but that's it. Amisa is Szu's mother and was once a B-level horror film actress. Circe is Szu's only friend in high school. They circle throughout the novel but their interactions are so amorphous—Amisa is a dreadful mother, Circe is not a great friend, Szu is maladjusted—that there is never any immediacy or anything to create a feeling of caring on the part of the reader. I have no idea what this book was supposed to be about.
A Spark of Light by Jodi Picoult: Very few authors can write about the toughest subjects and present both sides clearly, but Picoult does. Review to follow
She Would Be King by Wayetu Moore: A wonderfully unique and creative novel about the founding of Liberia. My review
Transcription
by
Kate Atkinson
Publication date:
September 25, 2018
Such sadness about this one! It was one of my picks for fall reading I was most anticipating. The propulsive, compulsivity of Life After Life is glaringly gone from, Transcription. Set in pre-war London, Juliet is working with MI5 as a stenographer who records conversations of Nazi sympathizers. It's a fairly dull job and makes for reading that is less than compelling. The sections of the book set in 1950 are not enough to offset the earlier period and at 80% of the way through I was still not hooked. So, I quit, which is almost unheard of for me, but I simply could not muster the attention to find out what the novel's twist might be. Somehow, in this round Atkinson makes WWII so dull I was reading this to help me fall asleep at night.
Great reading options from previous years
September 2014: In one month I reviewed three novels with wholly different perspectives on traditional subjects. 
All three
 made for invigorating and marvelous reading.
September 2013:
Related Posts