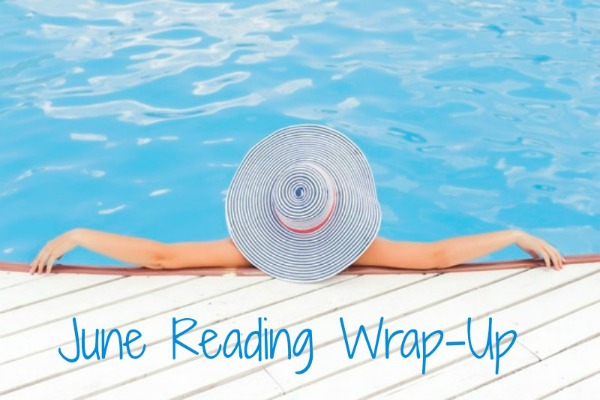 Goodbye, June! I wish I could say I was going to miss you, but honestly, there hasn't been a month in 2020 that I haven't been ready to escape. Only there is no such thing. There is gratitude that my life and the lives of those I care about are safe and secure (as much as possible), but looking beyond that small circle becomes more painful every day. I know this is a book blog and you're not here for political commentary. It is just mind-boggling to me that a DISEASE has become politicized. That anyone's civil liberties are being impinged on by wearing a mask. And please don't attempt any blather about breathing problems. It's bullshit, plain and simple.
So, summer advances while the responsible adults shelter and give up vacations, work from home, lose time with loved ones, and the rest scream about it's all a political hoax and goes against their rights as the virus numbers in their states soar. Which is going to impact all of us. But hey, you had your weekend at the beach, your night crammed into a bar, even attended services at a packed church, so who cares?
None of this has to do with books, but I can't be silent. Our country is on fire. We had and have no leadership to deal with this pandemic and now we're going to pay a price beyond our wildest reckoning. This could have been avoided. Period.
In my little world, my brain, on its hamster wheel, is frantically scrambling for balance. I read more than I anticipated, namely because I moved to shorter and lighter books. I'm still not back in my lane and can't predict what I'm going to like or not. I continue to try and educate myself on racism and my part in it, but it's heavy going and I have to step away at times. A luxury I know, POC don't have. Still, I'm trying.
Sorry for the rant. Here's what you came for: some of my reading highs and lows from June.
The Second Home by Christina Clancy
Published by St. Martin's
Publication date: June 2, 2020

I realize I've gotten fussier in the last three months as America has exploded, but I'm pretty sure I'd feel the same way about The Second Home no matter when I read it. The premise was all there: A quirky family with all the requisite personalities implodes because liberal parents, in trying to do something right adopt a teenage boy, look away from their daughters long enough that one ends up being abused and the other turns into a thrill seeker who likes drugs and surfing. Twenty years later the parents die and the girls (now women) are left to decide what to do with their Cape Cod vacation home.
This is more of a soap opera than a novel. Every time I thought the plot pendulum had swung as far away from credulity as possible, it ticked one more notch. After the sudden death of one of the characters I said enough and stopped reading. And before you get twisted about me giving away too much—I didn't. Everything I wrote happens before the book's halfway point. If you want a throw-away summer melodrama then read this.
The Vanishing Half by Brit Bennett: My review
Destination Wedding by Diksha Basu: Review to follow
The Perfect Couple by Elin Hilderbrand
Publication date: June 19, 2018



Bookshop, Amazon
Elin Hilderbrand is an icon of light seasonal reading in the contemporary women genre. She has a winter, Christmas series and various summer, beach themed books. When you need to read without thinking she's a great resource. The Perfect Couple combines a lot of elements I love—society wedding, the beach, wealthy people behaving badly. Hilderbrand throws in a murder and voila, things get dicey fast.  There's nothing surprising here, but it's all done reasonably well, which, honestly, is as much as I can ask from my fiction these days.
All This Could Be Yours by Jami Attenberg: My review
Sex and Vanity by Kevin Kwan: Review to follow (but it was just what I needed!)
My Friend Anna by Rachel DeLoache Williams
Published by Simon Schuster Audio
Publication date: July 23, 2019



Bookshop, Amazon
When Rachel Williams was in her late 20s, she was enjoying life in NYC as an associate photography editor at Vanity Fair. She met and became friends with Anna, a German heiress, who spent lavishly on herself and her friends. When she offered Rachel a trip to Morocco, Rachel was all in. Until she was stuck with a bill for $62,000.  My Friend Anna is Rachel's story about her friendship with a woman who turned out to be a massive con artist. I listened to this on audio and aside from the generationally annoying aspects of Rachel's voice, it is addictive.
Ransom by David Malouf: a novel about the Trojan War, recommended by a new friend. I'm loving it so far. Review to follow.
Convenience Store Woman by Sayaka Murata: I loved this odd little novel about one woman who didn't fit in the mold expected of her. My review
The Five: The Untold Lives of the Women Killed by Jack the Ripper by Hallie Rubenhold
Published by Doubleday
Publication date: February 28, 2019



Bookshop, Amazon
Unless you're a real fan of true crime you're not likely to know the names Mary Ann Nichols, Annie Chapman, Elizabeth Stride, Catherine Eddowes, or Mary Jane Kelly. They're five women who lived in London in 1888 and were murdered by Jack the Ripper. The Five is nonfiction about the women, NOT the crimes, and is fascinating in that history stigmatized and dismissed them all as prostitutes. Only the final victim had ever worked as an escort. The others were wives and mothers suffering from nothing more than the 'crime' of being homeless. In several cases alcoholism was a key aspect of their lives. One of the things I learned that I had never considered: the water in the poorer districts of London was so polluted with human waste that beer was the beverage of choice. Alcoholism was rampant at the time.
This is not quick or sensationalistic reading. Each of the five led lives typical of those living on the edge of poverty for generations. One misfortune was enough to tip them into having nowhere to sleep and so, left them sleeping on the street where they were easy prey for any man. The Five is more of an indictment of the times than of the depraved person who committed the murders.
That's it for June. July is packed with new releases (21 of them!) so I'll be back with lots of reviews. I hope you are all safe and finding ways to enjoy the summer.
This post contains affiliate links which means if you click on a link and make a purchase, I get a small commission (at no cost to you).
Related Posts