This post may include Amazon links. As an Amazon Associate I earn from qualifying purchases.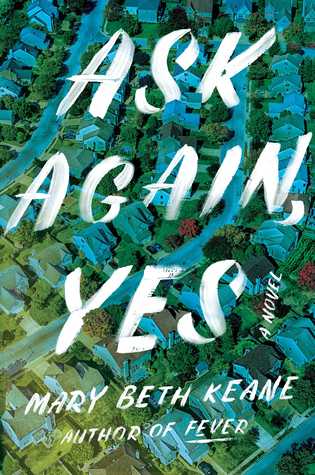 Ask Again, Yes is a complex family story that begins with the lightest of connections. Brian Stanhope and Francis Gleeson are two young men from Ireland who begin their careers as cops together in New York City. They move to the suburbs, right next door to each other and start families. But there their relationship halts. Brian's wife Anne is a cold and unfriendly woman and rebuffs all efforts at friendship. They end up working in separate precincts and life moves on. But a new bond is formed when Brian's son Peter and Francis's daughter Kate are drawn to each other as children, despite Anne's antipathy towards Kate and her family. As childhood segues into the teenage years, their friendship hovers on the brink of something else.
The novel takes a turn when an unexpected act of violence scatters the two families. The Gleesons remain in their home but Brian, Anne, and Peter are all thrown into other orbits a long way away. It is only when a reconnection is formed that everyone is forced to face the history they've buried. Despite so much damage done by others, author Mary Beth Keane, (who wrote the fascinating Fever, a historical novel about Typhoid Mary), doesn't let it sink Ask Again, Yes. Instead, it is absorbed and woven into the story with all its implications, much in the way it would be in real life.
Aside from the massive event that occurs in the novel's early chapters, Ask Again, Yes is a story of the small bits of life. Keane follows Peter and Kate from childhood to middle age and their parents from adulthood to old age. Along the way, she gently unpacks each of their lives, bringing to light the impact of mental health issues, what it means to be a parent, growing up, forgiveness. She shows the multitude of ways connections are formed, broken, and reformed. How they shape us. This is a lovely, studied family saga that is welcome reading as the frenetic pace of the holidays begins. I highly recommend.
I hope you all have a relaxing and enjoyable Thanksgiving! 
Related Posts