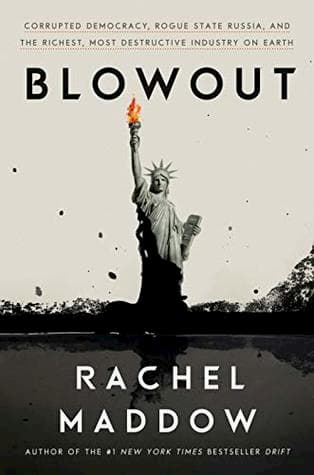 Blowout: Corrupted Democracy, Rogue State Russia, and the Richest, Most Destructive Industry on Earth by Rachel Maddow
Published by Crown
Publication date: October 1, 2019
Genres: Book Clubs, Business, History, Non-fiction

Your Local Book Store, Amazon
As you well know I'm not a big nonfiction fan, but like everything else in 2020, that fact is fiction right now. I'm enjoying a lot of nonfiction, especially audiobooks. So much so that I'm often scrolling through my online library catalog looking for something immediately available to listen to while I trudge up and down our basement stairs (cardio…yuck) or knit. That's how I happened upon Rachel Maddow's book, Blowout. In case you're thinking it's some kind of fluff about the hair styling industry here's the subtitle: Corrupted Democracy, Rogue State Russia, and the Richest, Most Destructive Industry on Earth. Yowza. If you're now thinking snoozefest, you'd be wrong again. Maddow's deep dive into the world of American energy (oil and natural gas), Putin's Russia, and, ultimately, the 2016 election reads like a Tom Clancy novel of intrigue, dark money, and ruthless power grabs.
There is so much meat on the bone of Blowout that summarizing the book is difficult. Maddow quickly traces the beginning of the oil industry in America and how, by the 70s, we were desperate to shake off the Middle East's stranglehold on gasoline production. She focuses largely on the key players in Oklahoma, men with a gift for understanding geology and how best to quickly extract resources from the earth. Men who release millions of barrels of crude from underneath the soil of Oklahoma, enriching themselves and their shareholders, but at what cost?
By 2014 Oklahoma ranked 49th in school spending because despite massive revenue tax breaks for oil and gas companies had depleted the state's treasury. Any efforts to rein things in were met with veiled threats from the industry: cut our tax breaks and we'll go somewhere else. Energy being what it is, Oklahoma had never made any effort to cultivate other industries and remains hostage to some of the most powerful corporations in America. They control the government and by extension, the citizens.
At the same time, starting in 2010 earthquakes went from being a rarity in Oklahoma to having more than 20 3.0 magnitudes quakes in the first 6 months of that year. Interestingly enough, that's not long after wastewater injecting from horizontal drilling and fracking became the most common disposal means in oil and gas extraction. The number keeps growing—in February 2016 alone the state recorded more than a hundred such quakes. Oklahoma now has more major seismic activity than California.
No study of energy in the U.S. would be complete without including ExxonMobil and, specifically, Rex Tillerson, the company's most profitable CEO and the bridge between American energy and Russia. While I found every aspect of Blowout fascinating, Maddow's excavations on Vladimir Putin's on-again/off-again reign to be mind-boggling. His sole goal was to return Russia to a position of global power–something he hoped to achieve through the country's massive energy resources. The problem? That oil and gas is locked deep beneath some of the most inhospitable terrain in the world. He needed Western technology and cooperation. Unfortunately, his megalomania led him to invade the Ukraine, annex Crimea, and invoke global condemnation. Not that that stopped Tillerson or ExxonMobil, who continued to do deep sea drilling in the Russian Artic even after Obama imposed sanctions. Sanctions that were lifted when the 45th president took office and Tillerson was named Secretary of State.
This brings Blowout back to America and the 2016 election. An election that a bipartisan Senate committee has recently determined was impacted by Russian interference encouraged and accepted by the current president's campaign.
There is so much to absorb and process in Blowout, but Maddow slices it into digestible pieces with real people's stories to offset the extraordinary amount of research she did. I've only covered a portion of the book's content, but all of it is riveting and staggering in its implications and impact. One of the global facts that stood out to me is that, despite being one of the most profitable industries on the planet, energy companies invest almost nothing in the research and development of containment strategies. Fracking, horizontal drilling, wastewater injection are all new technologies aimed at getting more out of the earth without any thought for what to do when things go wrong—as evidenced by BP's Deepwater Horizon debacle in the Gulf of Mexico and the uptick in seismic activity in high oil producing locations. It is a rapacious industry and Blowout is outstanding reading. Or, even better, listening, as Maddow is the narrator.
This post contains affiliate links which means if you click on a link and make a purchase, I get a small commission (at no cost to you).
Related Posts