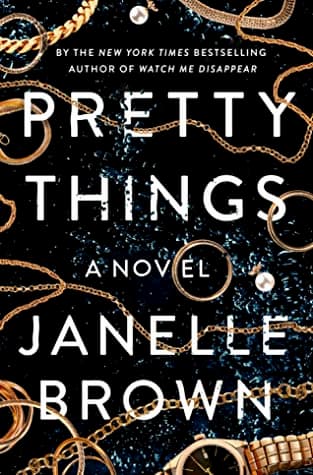 Nina is the kind of pretty that stands out, but not enough to be a problem if you're a grifter stealing from rich people in L.A. She's got a keen eye, both for fine art and antiques (thanks to an MFA), and for drunk spoiled men who aren't likely to miss valuable items from their homes. Vanessa is an heiress who fits Nina's profile, but as an Instagram influencer she's too aware of her surroundings (and how well they'll photograph), to be a good target. It's only when circumstances escalate for both women that they end up at Vanessa's massive family estate in Pretty Things, a roller coaster of a cat-and-mouse novel that I could not put down.
Before you start blaming Nina for her life of crime, it's worth noting that she grew up with a single mother who did what she had to for their survival. If that involved cons against men with money so be it. Even when she tried to go straight while living in Lake Tahoe, things still went against them. Now it's Nina's turn to support her as she's dying of a tenacious form of cancer. Stem cell treatment is the only option left, but the cost is prohibitive. Nina, with the help of her boyfriend, Lachlan, needs one last big job to save her mother. When she sees a name she recognizes in her social media, she knows where they have to go.
Vanessa's life hasn't been without tragedy. Her mother killed herself when Vanessa was at college and her brother is institutionalized with schizophrenia. Her father died recently and the man she was going to marry dumped because her frivolous Instagram life didn't play well with his philanthropic family. She's retreated to the family's estate in order to reassess her life and try and get away from the grind of being 'on' all the time.
You can probably tell where Pretty Things is going so I won't bore you with more details. What worked for me is how author Janelle Brown's played with the deeper psychological aspects of the characters—one a grifter, the other an Instagram influencer. Which of them is the bigger liar?
Caption-and-comment culture in all its brevity leaves out the middle ground, where most of life is found.
 She toys with these complexities in a way that doesn't impede the novel's flow, but gives it a bit more depth. On the downside, she has some literary tics, one of which is a big peeve of mine.  Overuse of italics—like, really? Between that and the exclamation points it made Vanessa seem overly-emotive. I understand that she's supposed to be a ditz. It annoys me because it feels as if the author doesn't trust me to get the full impact of their words without additional emphasis on their part. If you've done your job I know she's flighty and given to dramatics.
However, in these times, when I have the attention span of a hummingbird (albeit it a deeply saddened, frantic one), it's worth noting that even with its flaws Pretty Things fit the bill of reading that kept my mind on the page. The plot went places I didn't expect in ways I wasn't anticipating which is always a good sign. Easy, escapist summer reading.
This post contains affiliate links which means if you click on a link and make a purchase, I get a small commission (at no cost to you).
Related Posts