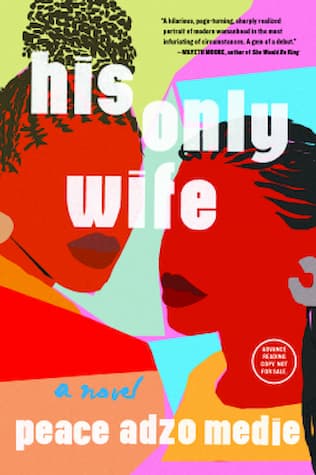 In a small town in Ghana, Afi Tekple lives in a house with her widowed mother. It's in a compound owned by her avaricious uncle and his many wives and their children. Afi did not go to university, but she loves to sew and has been studying and working as a seamstress. But is this barely-getting-by life all there is for her? It seems so, until her mother presents her with an opportunity that feels like a fairy tale. One of the wealthiest women in the country wants Afi to marry her son. How can she say no? His Only Wife joins Afi on her rags to riches journey and beyond.
His Only Wife is not a novel of an arranged marriage where a beautiful young woman is sold off to an old lecher. Afi's new husband, Eli, is a handsome, young, wildly successful businessman in the family's company. He fell prey to a devious woman who has an inexplicable hold on him that his mother hopes Afi can break. Although he agrees to the marriage, he does not attend and Afi doesn't meet him for weeks. Instead, she is left in a gorgeous apartment in the capital city of Accra. She has a car and driver and a generous allowance, but she is alone.
This newfound wealth opens doors to Afi, allowing her to explore options for her life she never thought possible. Her good fortune increases when her relationship with Eli begins to blossom and he encourages her ambitions.  She goes to design school and makes plans to open a boutique in one of the family's prestigious new buildings. Her expanding worldview makes her realize that not everything is as it's been presented to her. Her situation is more complex than she'd been led to believe. This knowledge, along with the awakening of her desires for her own success and independence, disrupts the carefully laid plans of everyone around her.
His Only Wife is one of those culturally diverse novels with customs that may seem unfathomable to others. Multiple wives, parasitic extended-family members, and societal acceptance of men who openly have mistresses are just some of the regular aspects of Ghanaian life. Author Peace Adzo Medie does an outstanding job layering Afi's poorer, rural upbringing against the customs and attitudes of upscale, urban Ghanians. The only system that is the same between the two worlds is the patriarchy. It is Afi's awakening to this that moves His Only Wife from a sweet, love story to a nuanced novel into something deeper and more rewarding.
This post contains affiliate links. If you click on a link and make a purchase, I get a small commission (at no cost to you).
*I received a free copy of this book from Algonquin publishers in exchange for an honest review.*
Related Posts