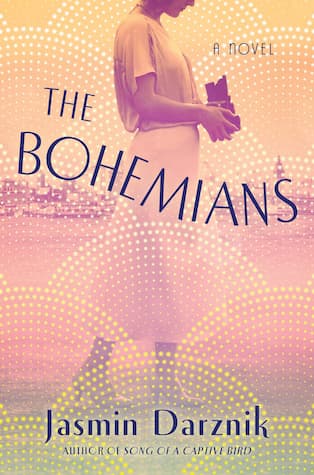 I was interested in Jasmin Darznik's new novel The Bohemians for its premise about a woman in history I knew nothing about. Dorothea 'Dorrie' Lange is an American photographer. If, like me, you don't recognize the name, this should help:
Migrant Mother was taken at the height of the Depression and is considered an iconic depiction of Dust Bowl reality. The Bohemians ends as that portion of Lange's life begins, but through the novel Darznik lays the foundation for understanding the woman and the work that came to be. The novel is set in San Francisco in 1918 where Lange hopes to propel her career from working as a darkroom assistant for dismissive men to having her own studio—a feat almost unheard of at the time.
Lange's plans are overturned from the moment she arrives in the city, but she is befriended by an elegant young Chinese woman, named Caroline, who provides entre into the city's artistic community. Caroline is in an even more precarious position than Lange. As a Chinese woman her employment opportunities are limited to doing alterations in the basement of a department store. At night, she sews her own designs in her apartment in a building nicknamed Monkey Block. A hodgepodge of apartments and studios, Monkey Block is home to artists, musicians, writers, and designers—the bohemians. Money may be scarce, but creativity and a love of beauty reigns.
For all the historical vitality in The Bohemians, the realities of the 1920s and their similarity to modern-day America is disheartening. World War I ends and as soldiers return home discrimination and xenophobia ramp up. Women and minorities are blamed for taking jobs from men and racism against the Chinese is virulent. The Spanish flu is another eerie echo to today with "foreigners" taking the blame, facing increasing violence.
It's in this space that the woman behind the camera emerges. Originally, Lange's goal was to take portraits and earn good money. She was not trained to believe in women as photographic artists. It's a trade, but her ability to connect with her subjects and photograph them away from staid studio settings make her stand out. Unfortunately, she refuses to heed the advice of friends and marries Maynard Dixon, a painter with an alcoholic, mentally unstable ex-wife, and a young daughter. Powerful love turns all of her energy and money being funneled into supporting his life at the expense of her career.
With all of these elements The Bohemians was not the novel I expected. I thought the focus would be on Lange's professional life, but the novel was much more personal and historical in nature. Darznik draws on the facts when she can get them, but has to turn to fiction for details on some of the characters. This could have impacted my enjoyment, but she builds Lange's world with such assurance that I was completely drawn in. The facts are painful—that a city, now seen as a bastion of liberal values, was a place of widespread and government-sanctioned racism, but the fictional aspects of Caroline's life, due to the lack of information because of that racism, are compelling.
The friendship between Dorrie and Caroline is the novel's brightness. Despite living in a time and place where they were meant to go unnoticed these young women come together, and with their talent and determination, stake their claim, and create their own community. It's this very real bond between women that gives The Bohemians its heartbeat.
Want more reading about female photographers blazing their own path? I highly recommend Age of Light by Wendy Scharer.
This post contains affiliate links which means if you click on a link and make a purchase, I get a small commission (at no cost to you).
*I received a free copy of this book from Ballantine Books in exchange for an honest review.*
Related Posts