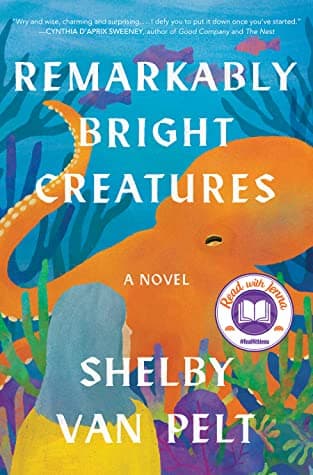 Hello, everyone! I'm easing back in today with a novel that melted my curmudgeonly heart. Remarkably Bright Creatures is a debut by Shelby Van Pelt that takes place in Sowell Bay, a fictional small town in northern Washington State. Tova is an elderly woman, who works nights cleaning the town's aquarium. It's quiet work that, on the one hand, suits her wish to avoid prying, but on the other reinforces the loneliness that has settled around her since her husband died a year ago. The passing of a spouse is not the reason for prying, it's the disappearance of her son 30 years. Erik was 18 when he went sailing at night and never returned. The boat was found, but not his body.
Part of Tova's routine is to greet each of the sea creatures when she arrives, including Marcellus, the giant Pacific octopus who is the aquarium's main attraction. These greetings are old-school etiquette, but with Marcellus it's more. Tova often talks with him, especially as she cleans the glass of his tank. And sometimes, she thinks he's responding. We readers know he is, because he narrates the first chapter of Remarkably Bright Creatures. What an ingenious, observant, and cranky marvel he is. He knows Tova's story, he knows of her son and wants to help her find resolution to her pain.
Tova and Marcellus are joined by Ethan, a Scottish grocer with a secret crush on Tova, and later, Cameron, an aimless 30-year-old man who's never grown up and arrives in town looking for the father who abandoned him when he was born. Who he believes is extremely wealthy and should be prepared to cough up for everything that's gone wrong in Cameron's life.
Remarkably Bright Creatures' plot flows around these three as they navigate through loneliness, friendship, growing up (even if you're already 30), knowing when to grab hold and when to let go. There are times when this story's ending would have been far too tidy for me, but in a summer that's left me feeling adrift, I loved it dearly. Especially Marcellus, whose thoughts and astute observations are both humorous and poignant. A must read if you want pure, endearing entertainment.
This post contains affiliate links which means if you click on a link and make a purchase of any kind, I get a small commission (at no cost to you).
Related Posts