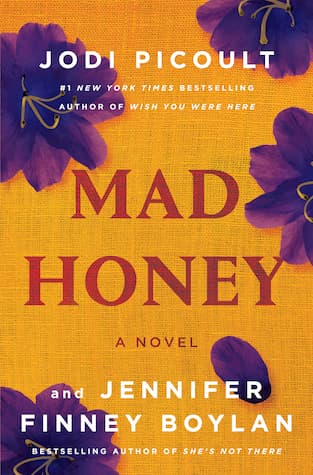 I'd left off reading Jodi Picoult after disliking her last two books and so didn't read Mad Honey until two readers I trust said I would enjoy it. I listened to them, but this may be the briefest review of a 4 star novel I've ever done. Not for a lack of thoughts, but because the plot twists in this story just keep coming until the very end. Given that each is substantive and critical to the story I'm keeping it minimal in regards to the details.
Olivia McAfee is a beekeeper. It's not what she'd thought she'd do with her life, but it was her father's passion and when he died she inherited the family home in New Hampshire and the hives. She lives there with her son, Asher, a high school senior. Between her entrepreneurial skills at marketing both the honey and the bees and the child support she receives she and Asher have fashioned a quiet, happy life. Until Asher falls in love with Lily, the new girl at school, and is later found with her body. He's arrested for her murder and Olivia must turn to her past both for assistance and to reconcile how and when her own actions might have contributed to Asher's situation. And to come to grips with how well she knows this son she loves so much.
Mad Honey is written in the first person with chapters alternating between Olivia and Lily. Both have had trauma with the men in their lives, scars they carry internally, not wanting to burden the people around them with their pain. For both,
People always talk about how their love for you is unconditional. Then you reveal your most private self to them, and you find out how many conditions there are in unconditional love.
 As is expected with any Picoult novel, Mad Honey is rigorously researched in a number of subjects relevant to the story. This is one of my favorite aspects of her novels. In this case, it's bees and honey and once again, I learned so much, including the historical importance of honey and its multitude of healthful and healing properties. Picoult manages to infuse knowledge into her writing that is easily understandable and not overwhelming. With some of Mad Honey's other more complex subjects this is especially critical.
Despite weighing in at over 450 pages Picoult's gift for storytelling makes the pages speed by, as she metes out details with the patient skill of an experienced fly fisherman, reeling out the line until the reader is hooked. This is especially true in Mad Honey where I was completely blindsided by a twist at the midpoint. Everything flows smoothly, making this an easy book to fall into and be absorbed by. If the ending wraps up in a way that feels unnecessarily tidy it was only enough to lose one star in my rating. Overall, Mad Honey is a timely, sensitive story about the fluidity of nature and the importance of acceptance—an attribute that is getting harder and harder to find in America today, even as we need it now more than ever.
If you're new to Picoult's novels I found Small Great Things to be

particularly powerful.
This post contains affiliate links which means if you click on a link and make a purchase of any kind, I get a small commission (at no cost to you).
Related Posts