The Wife, the Maid, and the Mistress
by
Ariel Lawhon
Published by
Doubleday
Publication date:
January 14th 2014
Genres:
Fiction
,
Historical
,
Mystery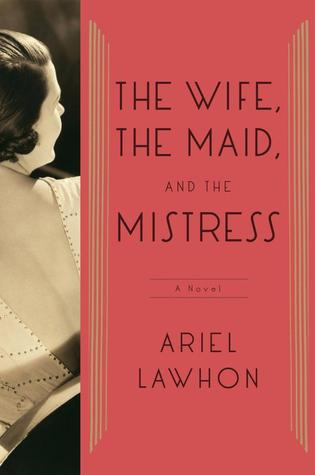 In a clever move, the title of The Wife, The Maid, and the Mistress describes the three main characters in the book, eliminating any need for the reader to figure out what the novel is about. There is Stella, the socialite long-suffering wife of Judge Crater who doesn't seem overwhelmingly concerned when he disappears, only when she finds out his paychecks are going to stop. Maria is the maid and had asked the judge if he can use his influence to get her husband promoted in the police department. Her power lies in the fact that she has the keys to their New York City apartment AND caught him in the bedroom with…the mistress. This would Ritzi, a voluptuous dancer who has caught the judge's eye but has a past with a local mobster, Owney Madden. At the center of these three women is Judge Joseph Crater, a man with a dubious path to his position and a love of power. When he goes missing, one of the three women knows why and where but which one? And will she talk?
In The Wife, Lawhon marks time by defining chapters with a place and date, giving the novel the feel of a diary. Time spans between the weeks preceding and following the judge's disappearance and almost forty years later when Stella Crater meets with Jude Simon, Maria's husband, to finally tell what she knows. By and large this works, but as the conclusion approached I found myself flipping back through chapters to find where exactly what I was reading now fit into the plot. This broke the flow enough to notice but not enough to lessen my interest in what was going to happen next.
Author Ariel Lawhon creates a delicious mash-up of who knows what, who did what, and where is the judge? The world she creates of corrupt politicians, speakeasies, mobsters, showgirls, cigarette smoke, slinky gowns, and illegal booze is executed like a great noir movie. My mind became a screen and I could hear the dialogue and see the scenes. No easy feat, but The Wife, The Maid, and The Mistress embraces the underside of the times, even among the characters who were supposed to be above it. The fact that it's based on a true story is even better and adds to its movie potential. This novel has as much going on behind the cover as NYC speakeasies but you don't need a password to get in. Just start reading.
Related Posts