Contemporary life almost always makes for good fiction, but needs to be done right. That's why the 'take it or leave it' theme today. I recently read two light fiction novels and only one struck the right note.
Take It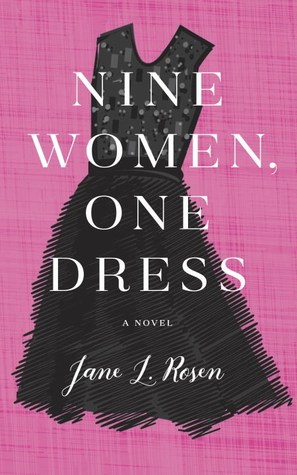 Nine Women, One Dress by Jane Rosen fits perfectly from beginning to end. The title is fairly self-explanatory, but in case you want to be sure…it's a novel about one perfect little black dress and its journey through the lives of nine women. It begins on the runway being worn by a first time model who is terrified and moves from there back to the man who made the pattern, and forward to a Bloomingdales sale clerk who wears it on a fake date with a movie star. Then it's shipped to one man's devoted secretary and on to a burqa-wearing Muslim who tries it on for just a few minutes in the privacy of her room. The dress is that elusive flattering one that makes everyone who wears it feel special and Rosen plays that off against the nine vignettes she creates. She makes it the backdrop for their stories and in doing so explores a wide swath of women in a variety of lives.
There is nothing extraordinary about Nine Women, One Dress except that is exactly what it purports to be –a big accomplishment in the world of fiction. It's well-written fun, nothing more or less. There is so much ugly noise in the world right now that it should almost be mandatory reading—it is pure charm wrapped in tissue paper in a beautiful box tied with a bow. It is delightful, soothing, enjoyable reading and while I can't speak for anyone else, it was exactly what I needed. Thank you, Jane Rosen, for giving me a big bowl of happy.
Leave It
Not Working by Lisa Owens
Published by The Dial Press
Publication date: May 3rd 2016


The premise of Lisa Owens' debut novel, Not Working, is a young woman who's…not working. Revelatory, right? Claire has quit an office job to try and find out what she really wants to do with her life, only to discover that what she really wants to do is spend a lot of time doing nothing.
When I requested this book I thought the theme of what one does when out of work would resonate because of my own long-term unemployment (which at this stage I'm calling early retirement), but it may have ended up cutting too close to the bone. Claire's discovery that having more time does not mean you will use it to train for a triathlon, learn Italian, and write a novel but are more likely to sleep late, watch too much TV and eat is painful. Realistic, but painful.
Not Working is formatted with brief vignettes of stream-of-consciousness followed by the plot. Owens' humor is evident in this brief asides, but they get wearing in the long run.
Every novel needs a conflict and in chick-lit the second best trope is one between mother and daughter. In Not Working Owens chooses to use Claire's off-hand comment at her grandfather's wake that he exposed himself to her. End of chapter and no more about it until a cousin tells her mother who calls her and stops talking to her after Claire says it was a joke, a misunderstanding. There's no point in my trying to explain this further; it's just wrong. If the point is he did, then that's really serious and should be a part of the plot. If it was a mistake, as in she walked in on him in the bathroom or whatever, it's not funny. Bottom line: it changed Not Working from a somewhat funny novel about young adulthood to something so tone deaf I could not keep reading. I'm not sure I've ever said this about a book, but I was offended by this.
This is bad no matter what. If Grandpa did expose himself than the novel should move from chick-lit to family drama, but Claire's assertions aren't really mentioned again until the very end nor does she ever discuss them with anyone else. If she merely made a VERY inappropriate joke then that should have been resolved as well and it wasn't. Owens throws a massive bomb into the first chapter of her novel and then proceeds to ignore the wreckage. And why? Mother-daughter conflict could have been easily established with a much less sensitive topic especially because there is no resolution to it at all.
Related Posts