Revenge Wears Prada: The Devil Returns (The Devil Wears Prada, #2)
by
Lauren Weisberger
Published by
Simon & Schuster
Publication date:
June 4th 2013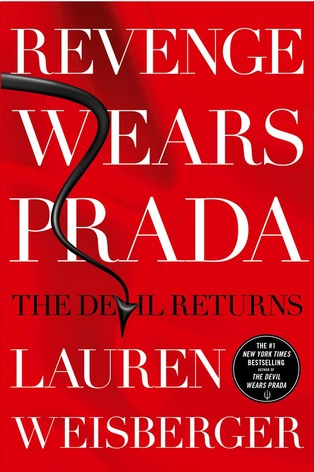 It's been ten years since Andrea Sachs told her boss off in The Devil Wears Prada and when Revenge Wears Prada opens, a lot has happened. While she still gets nauseous if she hears that infamous Nokia ringtone, the H.O.R.R.O.R that was working for Miranda Priestly has receded into a mostly faint memory. She has an adoring new fiancée and is the editor of a chic up-and-coming bridal magazine. She has managed to toss off her almost-year at Runway and emerge triumphant in all ways. Yawn…how boring. Of course, author Lauren Weisberger can't leave things like that—there's no story! So, in an amusing twist, Andy's co-founder of the magazine is none other than the acerbic, scathing Emily, the former first assistant at Runway. They've set aside their differences and bonded over Miranda loathing. Emily still manages to make every other sentence an insult but she and Andy make a great magazine team.
That's still not enough, right? Of course not. Andy's magazine has skyrocketed to such success that a huge publisher wants to acquire it. Even better, they insist on a one year contract keeping the original editorial team intact. The girls will get millions in payout and still get to run their beloved magazine. Or maybe not. Miranda Priestly is the managing director of all of Elias-Clarke's publications so, in a sense, she would be their boss again. This is where the revenge meets the Prada. When Emily seems inclined to sell and work for Miranda again, the girls' relationship begins to wobble as Andy would rather remove her own appendix. Her personal life falters as well when, on the morning of her wedding she discovers a letter from her soon-to-be mother-in-law that makes it clear she thinks Andy is completely unsuitable for her son and tells him to get back with his ex, whom he saw in Bermuda during his bachelor party.
Revenge Wears Prada has the style and panache of a New York socialite. In the same way that Andy learned to intuit Miranda's every need, Weisberger knows her readers and has brought back all of the Devil characters in their original incarnations. There is no message or moral here, just a plot that is as slinky and tightly wound as a Herve Leger dress. If you haven't read the first book, you should. In true Hollywood fashion, the movie softens Miranda somewhat. In Devil and in Revenge, she has only one dimension—pure, self-absorbed evil. There is nothing to like about her but Weisberger writes her so well she makes your teeth clench. Will she be able to exact her revenge on Andy and Emily? Even if you're a clacker in sky high stilettos, you'll race through the novel to find out.
Revenge Wears Prada can be purchased at:
Shop Indie Bookstores

Related Posts