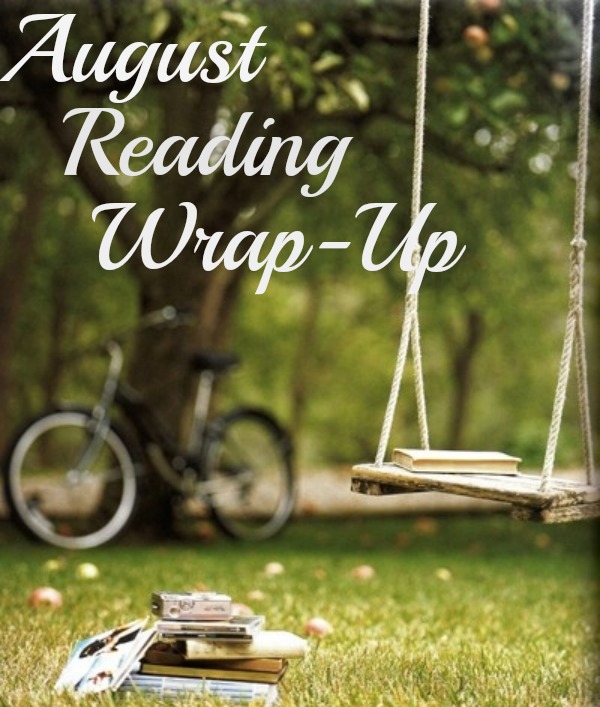 Goodbye, August—the last month of summer and my first summer in Michigan has wrapped up. Much like this winter, the majority of the summer was reasonable. A few days when the heat and humidity filled my veins with lead, but not as bad as it good be. In an effort to stay in a positive lane (getting harder and harder to do), my reading this month was all about quality not quantity. I read 14 books and 12 of them met my criteria of very good or above. That makes August one of the best months I've had all year. 
Here's the recap of the highs and lows of my August reading.
The Lions of Fifth Avenue by Fiona Davis
Published by Dutton Books
Publication date: August 4, 2020

The Lions of Fifth Avenue was a kryptonite choice on my part because I cannot resist novels about books or libraries. This one is about one of the greatest libraries there is—the New York Public Library on 42nd St. The novel has a split timeline with part of the plot taking place in the early 1900s when the library manager's family got to live in an apartment in the library (which I think was true in the early days—swoon). The second part happens in the 1990s and involves the granddaughter of the apartment's original occupants.  She's an archivist curating an exhibit when books start going missing.
Sadly, the synopsis is the most exciting part of the novel. Davis writes about exciting historical NYC buildings, but her writing doesn't have the same verve as the subject. At best, The Lions is quick poolside reading.
Blowout by Rachel Maddow: Incredible nonfiction about the oil and gas industry. My review
The Unraveling of Mercy Louis by Keija Parssinen: Strong coming-of-age female fiction. Review to follow
When They Call You a Terrorist: A Black Lives Matter Memoir by Patrisse Khan-Cullors, Asha Bandele, Angela Y. Davis
Published by St. Martin's Press
Publication date: January 16, 2018



Your Local Book Store, Amazon
With the ongoing murders of unarmed blacks by police this spring and summer, I, like many other people I know, have felt the need to better educate myself on America's systemic racism. When They Call You a Terrorist is written by Patrice Khan-Cullors, one of the founders of the Black Lives Matter movement. It's a memoir of her life and what led her to start BLM. To say it is shocking and surreal in its racism and police brutality is an understatement. But it's real.
 I was not expected or encouraged to survive. My brothers and little sister, my family—the one I was born into and the one I created—were not expected to survive. We lived a precarious life on the tightrope of poverty…
This is a must-read book for any white person wanting to look beyond their inherent privilege. A few stats from the book:
America has 5% of the world's population but 25% of its prison population.
12% of black girls are suspended from school at some point compared to 2% of whites.
Between 1982 and 2000 the number of people locked up in the state of CA grew by 500%.
When These Mountains Burn by David Joy: My review
A Saint from Texas by Edmund White
Published by Bloomsbury Publishing
Publication date: August 4, 2020

I thought A Saint from Texas would be fun, possibly satirical reading about two rich twins in 1950s Texas whose lives go in opposite directions—one becomes a European socialite and the other becomes a nun. Fun premise and fabulous cover, right?! Unfortunately, the novel was so filled with racist and misogynistic terms that I had to stop reading. I do believe in context and Texas in the 1950s was probably an incredibly racist, woman-hating place to be, but this was gross. It went beyond the story, especially the instances when it was a teenage girl talking. One of the few occasions when I clearly felt a male author was writing his stereotypical version of some kind of woman. Not good.
The Boys' Club by Erica Katz: Fast paced novel about one young female lawyer's experience. My review
Against the Loveless World by Susan Abulhawa: Intense reading about a Palestinian woman imprisoned as a terrorist in Israel. Review to follow
A Good Marriage by Kimberly McCreight
Published by Harper
Publication date: May 5, 2020



Your Local Book Store, Amazon
A great thriller allows me to suspend disbelief when a plot gets thin enough to see through. A Good Marriage comes close to this criteria, but the introduction of another suspect at the novel's 90% point is too much. I had to take off half a star. Basic plot summary: a corporate lawyer is contacted by a law school friend whose wife has been murdered. He wants her to represent him. Let the plot twists begin! McCreight already had a full slate of people who could have murdered Amanda when she added another to the mix.
This is a kitchen sink thriller. It has everything and then some. And yet, I kept reading. I was entertained and like her style. If you need hyper-kinetic reading that makes your mind scramble to keep up then A Good Marriage is just right. If you need a little more room to breathe then it's going to feel like too much.
That's my August reading! How was the last month of summer 2020 for you? Read or do anything particularly great?
This post contains affiliate links which means if you click on a link and make a purchase, I get a small commission (at no cost to you).
*I received a free copy of books from Dutton, Bloomsbury, and Harper publishers in exchange for an honest review.*
Related Posts