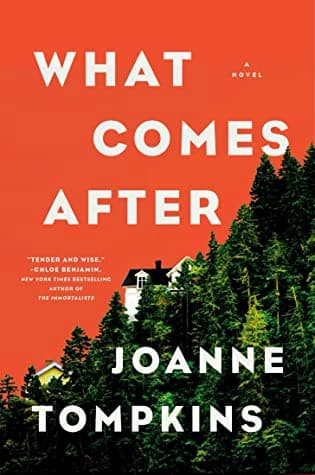 When a novel begins with a shocking act of violence it often indicates more dramatics, more action, to come. In the case of What Comes After, author Joanne Tompkins opts to go a different route, turning the novel inward to the lives of the characters left behind. A small Washington town is rocked when childhood best friends are found dead in a murder-suicide. The murdered teen's father, Isaac is trying to come to grips with what has happened, when a 16-year-old girl turns up on his doorstep. The unlikely pair are the novel's nexus in the search for answers and understanding, both of which are hard to come by.
Evangeline is the girl and Isaac's house is both a random choice and known to her. She's been living on the edges of town, but realizes her current lifestyle—foraging for pizza from dumpsters and sleeping in the woods—is not sustainable. She's pregnant and the only person who's been kind to her recently is Jonah, the boy who murdered his friend and then killed himself. Isaac knows little of this, because she is borderline feral, but in his grief and loneliness he offers her a place to stay. Evangeline begins relaxing into the security of a routine and feeling safe, but Isaac's demons consume him.
The grieving process for all involved is further complicated because the families are next door neighbors. Jonah is survived by his mother, Lorrie and younger sister, Nells, but Tompkins goes further, giving Jonah a voice in quick chapters written the day of his death. We learn of his friendship with Isaac and his interest in the Quakers, of whom Isaac is a member. The facts of Daniel's murder are shared, but there are no easy solutions in What Comes After.
In this way, Isaac's Quaker beliefs provide a perfect backdrop for his preference for silence while binding him to an emotional reserve the religion doesn't demand. He battles this in his marriage and his relationship with Daniel, Evangeline, and Lorrie. He allows it to hold him to a level of composure and stoicism that becomes an impenetrable wall against healing and the truth.
There's very little wasted space in What Comes After. Tompkins wrings out each character for the maximum effect without going overboard or being sensationalistic. This precision applies even to Rufus, Isaac's pit bull, who provides as much insight into the characters through the love he engenders, as do the novel's humans. It's touches like this that move What Comes After from the potential thriller arena into something  much better and deeper—a perfectly blended amalgam of grief, resilience, and healing.
This post contains affiliate links which means if you click on a link and make a purchase, I get a small commission (at no cost to you).
*I received a free copy of this book from Riverhead Books in exchange for an honest review.*
Related Posts