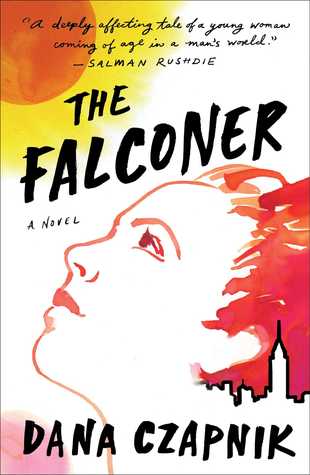 On page two of The Falconer, when Lucy Adler says
I met that basketball for the first time only thirty minutes ago but I already know I love it unconditionally, and that it loves me back in a way that no carbon-based life-form ever will.
you need to understand you've just seen into her very soul. On the court, she is a beast, a player so good she routinely plays pick-up games against grown men on the courts near her Manhattan home. Off the court she is a too-tall, introverted, 17-year-old biding her time until her senior year is finished and she can get away from the male cretins at school who call her a lesbian because she's a better athlete than they are. The only overlap between life on the court and life off it is her best friend Percy. They play against each other, even though he's got 6" on her, and spend all their time away from school together. But in the same way Lucy lightly shares her love of basketball she just as quickly lets slip her biggest secret
Because the world rains arrows and honey whenever he's near me. Painful and sweet.
And just like that, we learn the fearless Lucy is permanently benched in the friend zone. Percy is clueless about Lucy's feelings so while she gets to spend time with her favorite person she sometimes has to do it with his girlfriends around. It's just one of the many awkward and confusing situations in this wonderful novel that perfectly renders coming-of-age.
An introspective novel, The Falconer is still fueled with the high-octane intensity of a girl who lives and breathes basketball. Author Dana Czapnik encapsulates life inside Lucy's mind with citrus fresh writing and a crispness that bursts off the page. From the opening scene to every page after, I was inside Lucy's head and it was a place both foreign and completely familiar. There is the utter unknowability of teenage social politics and wanting to fit in, played against the slow realization that your parents are people (what?!). Of wanting to test boundaries while not leaving your comfort zone. Through every iteration of teenage emotion and energy, Czapnik imbues Lucy with a tender fierceness that is deeply affecting.
The Falconer is a novel of every girl, reminding me of How to Build a Girl (with a lot less swearing and sex) and How To Set a Fire and Why. It overflows with the beauty and angst of being seventeen and on the cusp of the future, with all the joy and terror it inspires. Lucy Adler joins the small cadre of characters I'd love to meet in real life.
Because isn't it just so much easier for everyone when a girl fits into a nice little girl category—good girl slut tomboy girly girl smart girl ditz—instead of being a fully fleshed-out person who is in constant conversation and sometimes arguments and sometimes war and sometimes peace with all the various fractious parts of herself. I have to live in a world where the whole human being that I am will make other people uncomfortable and find a way not to be bothered.
Related Posts