The Color Master: Stories
by
Aimee Bender
Published by
Doubleday
Publication date:
August 13th 2013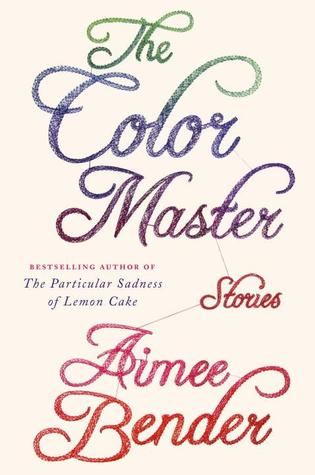 Aimee Bender's The Particular Sadness of Lemon Cake is one of my favorite books. Her combination of magical and realism makes for poetic, moving reading. Last month her newest book of short stories, The Color Master, came out, and it shimmers with its ability to be both fantastical and utterly human.
In "The Doctor and the Rabbi" Bender takes what sounds like the opening line of a corny old joke: 'a doctor goes to see a rabbi' and turns it into a thoughtful story on communication between the scientific mind and a mind of faith. Although still an atheist, after spending time with the rabbi the doctor finds
He would never call it God. He would not call it prayer. But just beyond his sandwich, and the four TV shows he watched back to back, and his teeth brushing, and his face washing, and his nighttime reading of a magazine, and his light switching off, just the faint realization that there were many ways to live a life and that some people were living a life that was very different than his, and the way they lived was beyond him and also didn't interest him and yet he could sense it.  
"Tiger Mending" is a fable that so perfectly melds this world with one of magical powers that we believe that one sister has the spirit and the sewing skills (having studied to be a surgeon) to resew the mysteriously split skins of live tigers but the other works in Burger King. When the first is summoned to Malaysia to help the tigers she will only go if her sister goes with her. Once they arrive, the seamstress is incapacitated by the mystery of how the tigers come apart. The grand and mystical nature of her mission and her inability to fulfill it are in counterpoint to the other sister, who sees only a problem and for love of her sister looks to fix it.
Sloane retired for a nap, but I snuck out. I had been warned, but really, they were treating me like shit anyway. I walked a long distance, but I'm a sturdy walker, and I trusted where my feet went, and I did not like the sight of my sister staring into her teacup…Before I left, I sat her in front of the window and told her to empty herself, and her eyes were grateful in a way I was used to feeling in my own face but was not accustomed to seeing in hers. 
Although, Bender leaves her narrators without names, she creates intimacy by writing each story in the first person. The reader is immediately enfolded into another world, whether it is one with a teenage boy who can't read human emotion or, as in the title story "The Color Master", a tailoring shop that works with a woman who infuses her fabrics with the emotion associated with the request, creating works of art for the aristocracy. Yet even in this whimsical world Bender reminds us there is no such thing as a fairy tale.
She is certainly the most talented in the kingdom, but gets zero recognition.  
But because she does it with such imagination and emotion it still makes for wondrous reading.
Related Posts