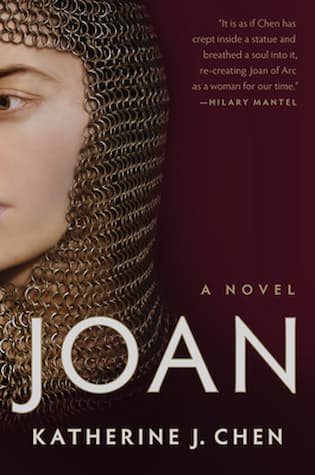 Fresh week and time to really start sharing my summer reading. I'm coming in hot with a 5-star novel that is on track to be a favorite of the year. It's Joan by Katherine Chen. The novel is about Joan of Arc, but is cast from the same mold as renderings of great men from historical times with few written records. Embellishing? Maybe, only this time, I'm here for it. What is known: Joan was a peasant girl, supposedly had visions, and was with the French army in its first victory in the 100 years' war against England. She was not a soldier, but more of a figurehead—beautifully armored with her own horse and banner, never messy. Important largely due to her purity and the belief that she was God's messenger.
Chen decides this watered-down interpretation is not to her liking and so molds a Joan d' Arc for our times. The facts remain: She is an illiterate peasant, she has conversations with God, and she does meet the French Dauphin, Charles VII, and goes on to restore the crown to him, all before she turns 19. She's later captured by the British and burned at the stake as a witch—the patriarchy's judgement of choice against inconvenient women.
These few historical details of Joan's life are relayed, but this Joan is not just fleshed out, she pulses with life. She is the second daughter of Jacques d'Arc—a lying, cheating, bull of a man who hoped Joan would be a boy and never forgave her for being a girl. Coupled with the fact that she was large, unattractive, and not afraid of him meant he beat and mocked her mercilessly. This behavior continued until she was a teenager and had grown to be bigger than him. She is as good with manual labor as she is with small children, but her dearest loves are her sister Catherine, nature, and her dog.
If Chen only dwelt on the surface Joan, a teenage girl with the height and strength beyond most men, then Joan would be weak reading. Instead, Chen gives the girl an inner life that flies in the face of the accepted gender norms of the times. Growing up near the shifting border of the war between France and England gives this Joan an anger that, combined with the rage against her father and his abuse, lights in her a white-hot fire against injustice. A fire that could be seen by some to come from God because she believes it is his will that the wicked be punished and that her country be free from encroachment. But this communion is not one fostered by kneeling and praying. Joan is fascinated by the tools of war—armor, helmets, swords, and when an elderly knight wanders into their village she barters food for lessons in fighting and riding. No one but her believes anything will ever come of it until she suffers a catastrophic loss and knows the time has come for vengeance.
"I have thought to myself, What choices does a woman have for vengeance, for justice? For we cannot simply pray. I can't stomach my mother's prayers. We cannot afford to wait and be still. I won't live this way—not anymore. So when I spoke to God that morning, I decided, if I am to scream, let it be in battle."
Joan may have been illiterate, but she's possessed of a keen military mind and the ability to visualize strategies. As for the visions, Chen doesn't negate them, but presents them in a more secular way. They are the emotions that have been with her for as long as she can remember, both for her personally and in the world around her. The constant fear of danger, the exhaustion of defeat after defeat, of being unheard. She's moral in her beliefs and her love of country, but she's not going to sit back, weeping and wringing her hands.  She's going to wade knee deep in the blood of her enemies.  I respect that.
Still, we all know what happens to her and there's the tragedy. Joan is an extraordinary recreation of one young 15th century girl. Not as a one-note killer or saint, but a multi-layered young woman of unusual gifts and deeply felt emotions, some of which were appreciated, but all of which ultimately led to her downfall. I highly recommend Joan for lovers of historical fiction and women of all ages.
If you enjoy historical fiction about women living lives in roles normally held by men, try NeverHome by Laird Hunt. Outstanding.
This post contains affiliate links which means if you click on a link and make a purchase, I get a small commission (at no cost to you).
*I received a free copy of this book from Random House in exchange for an honest review.*
Related Posts