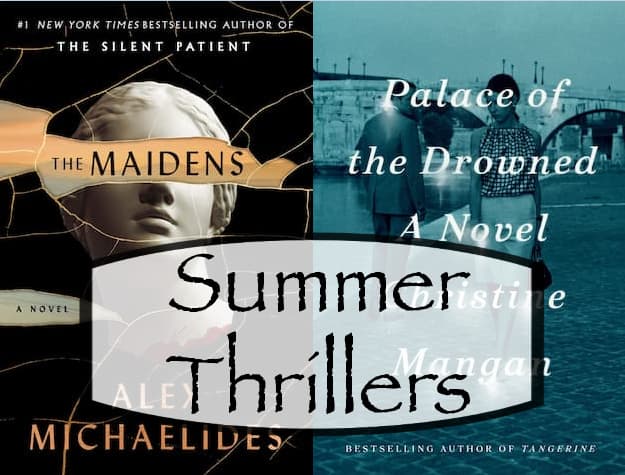 Summer is a great time for thrillers. Hot weather, vacation, and short attention spans are all made for engaging reading that moves fast. Of course, my expectations are higher, because humidity makes me cranky and we have plenty of it in Michigan. For that reason, I'm a picky reader right now so take these reviews with a grain of salt (what does that even mean?). On Monday I'll be back with two more thrillers that, at the very least, win the award for best roller coasters. Crazy rides!
Frankie Croy achieved critical and financial success with her first novel. Unfortunately, she wasn't able to replicate that by her 3rd and in the face of a minor breakdown she retreats to a rich friend's palazzo in Venice. She has one book left on her contract with her publisher so she's hoping the change of scenery will revitalize her writing. It seems to work until she runs into the daughter of an editor she knows, who's besotted with her work. Gilly attaches herself to Frankie as an acolyte in a way that both unsettles and intrigues her. This is the groundwork laid by Christine Mangan in her new psychological thriller, Palace of the Drowned.
It's bad timing, but this is the second novel in two months that I've read about a once promising writer now floundering to replicate their success. I understand, in some part, that Frankie must be portrayed as unsteady, but Mangan pushes further, making her drunk, surly…the epitome of an unreliable narrator. Which is a trait that can be fascinating, but relying on outside influence, like alcohol, cheapens the effect. It's too easy to be unreliable when you're blackout drunk.
Mangan is pulling from the classic movie, All About Eve but adding her own twist. This would been interesting except she's so heavy-handed with the atmosphere (a rude housekeeper, odd neighbors, and the 1966 Venice flood) and with Frankie's sad-sack personality it all fell flat and then, the ending? I'm still shaking my head. What did I love about this novel? The cover. Gorgeous. Enough said.
Mariana is mired in grief for the loss of her husband until she receives a call from her niece, Zoe, who's attending Cambridge University. One of her friends has been murdered. A trained therapist and Zoe's only living relative Mariana heads to Cambridge to help. Once there, she meets a professor of Greek Tragedy who has a mesmerizing hold over his students, especially a group of young women who are part of a secret society. Known as the Maidens they seem to be at the center of the mystery in the novel, The Maidens.
With her psychology training and experience Mariana soon latches onto the professor as the person most likely to be the murderer. With her connections she stays at Cambridge and inserts herself into the investigation. Her focus may be single-minded, but there are plenty of other unsettling characters and events seeded throughout the novel.
Tension builds well in The Maidens, but only by throwing in more rather than letting the existing ingredients simmer. At one point, in a chapter potentially written by the killer, they describe growing up on a sheep farm and having to listen to the screaming of the lambs. Seriously? One of the most iconic references from one of the most iconic thrillers? I was immediately pulled away from The Maidens into the jail cell with Hannibal Lector and Clarice. At the very least, a poor choice to hold the reader's attention. After that, much of the plot felt one note.
If overall The Maidens didn't thrill me, it does win the award for a "gasp out loud, drop the book" twist at the 90% mark. Truly did not see that coming so that counts for something and bought the novel an extra star.
This post contains affiliate links which means if you click on a link and make a purchase, I get a small commission (at no cost to you).
*I received a free copy of these book from Flatiron Books  and Celadon Books in exchange for an honest review.*
Related Posts